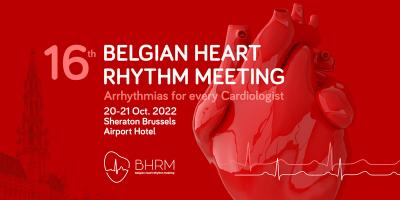 Dear Colleagues and Friends,
We are glad to be back on track and excited to start organising the 16th edition of the Belgian Heart Rhythm Meeting, taking place on 20th and 21st October 2022 at the Sheraton Brussels Airport Hotel. After a successful onsite 15th edition in 2021, we are really looking forward to meeting you all in person this year!
Each year, our renown scientific event gathers over 800 participants with the same aim: bringing together leading cardiologists, professors, doctors, nurses, technicians, and scholars to exchange and share experiences and research results on all aspects of clinical rhythmology.
The scientific programme, presented by a notable line-up of speakers, will focus on all fields of arrhythmias and arrhythmias in daily practice such as ablation, atrial fibrillation, antiarrhythmic drugs, anticoagulation, brugada syndrome, COVID and arrhythmias, ECG interpretation, ESC guidelines, new pacing modalities, practical devices implantation, radioprotection, radiotherapy, risk stratification, trials interpretation and ventricular arrhythmias."